"How to Find Problems Your Eyes Can't See and Improve Your Home Inspections"
From: Dan Bowers (Education Director Heartlands Regional InterNACHI Chapter), and
Craig Lester & Pat Butler (Board Members of the KARCI Chapter )
To: Inspectors, Consultants, Interested Parties …….
The Heartlands Regional InterNACHI Chapter and KARCI (the Kansas Association of Residential & Commercial Inspectors) are having a short ZOOM / 2 hour CE class for you ….. ONLINE and FREE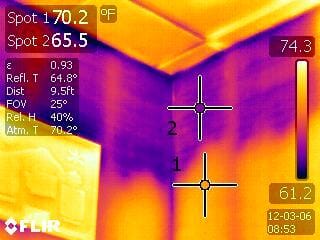 The Seminar is going to be FRIDAY afternoon / March 19th at 2pm CST. We've lined up a very well known and popular NATIONAL speaker that normally teaches certification courses for the use of Infrared Cameras (IR) in building inspections.
Bill Fabian, Vice President and Senior Trainer with Monroe Infrared, will discuss how infrared (aka thermography) provides a more thorough home inspection for your customers. Bill will touch on how to handle Realtors who may view infrared as a deal breaker. Attendees will
need a webcam and microphone on their computers.
This short class will also cover the uses of an Infrared Camera in an inspection; the types of IR cameras; and the various training classes and certifications available to you. There will be a Q/A session at the end.
If you want to attend, by March 17th; we need the attendees' contact information including
name, address, email address, and phone number;