9:30 – 10:00am
10:00 – 10:30am
Welcome / Introductions / NACHI News
10:30 – 1:00pm
Foundation Defects & Repairs – Andrew Vlesides with Spartan FoundationSome of you may have heard Andrew speak before at meetings or  seminars in the Kansas City area. He will discuss diagnosing of  foundation defects, crack analysis, foundation movements and  different types of repair methods. Andrews Company was founded  in 2007 and in 2012 has been featured in Angies List as one of their BEST Companies. Spartan Foundation Repair specializes in various Types of foundation repair, basement waterproofing, mudjacking, drainage improvements, bowing walls and differential settlement.

Andrew will address concerns or issues he frequently encounters when coming into a real estate transaction behind Home Inspectors like us, or areas where we have extreme exposure to liability. Andrew attended KU in Construction Management and engineering programs.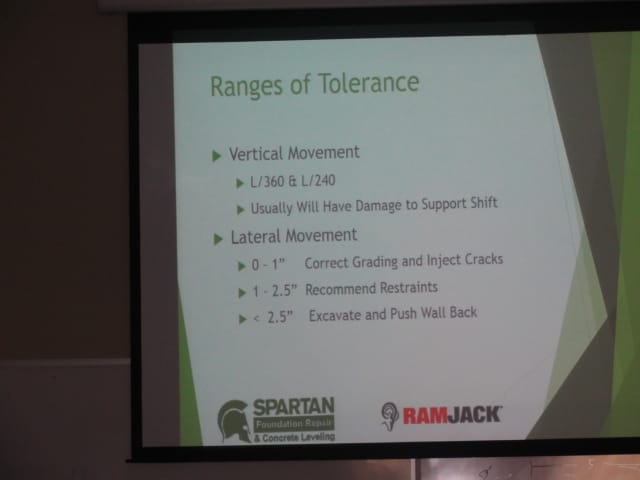 1:00 – 1:30pm
1:30 – 4:00pm
Risk Reduction – Reducing Liability – Dan Bowers with Holmes InspectionDan has done inspections for over 33 years and in a very litigious business has NEVER been sued. The 2 or 3 times he has been threatened with one, he has used the tactics he will discuss in this seminar to make the other party realize that this was frivolous, NOT his fault, BUT was going to be VERY costly to them if they pursued it.

A lawsuit is often NOT about right or wrong OR being a good inspector or not – – much of the time, its about attorneys OR other parties making money. If you have a valid address you can be sued. The more houses you inspect, the more likely you will be involved in a lawsuit.

Dan has done this presentation for all 3 National Inspection Associations over the past 10 years at Annual Educational Seminars (NACHI, ASHI & NAHI).
4:30pm